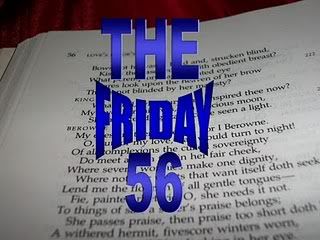 Rules:
* Grab the book nearest you. Right now.
* Turn to page 56.
* Find the fifth sentence.
* Post that sentence (plus one or two others if you like) along with these instructions on your blog or (if you do not have your own blog) in the comments section of this blog.
*Post a link along with your post back to this blog.
* Don't dig for your favorite book, the coolest, the most intellectual. Use the CLOSEST.
I found this via
Shiloh Walker's blog
. She found it at
The Bookaholic Zone
, who found it at
Storytime With Tonya & Friends
, which - as far as I can tell - is the originator.
"Her family is not only in charge of the Pop Cops, but work closely with the Controllers, as well."
Inside Out
by Maria V. Snyder
I was going to go sit out on the back porch and read for a bit, like I did yesterday, but then I found out the temperature: 80! Too hot for me. So I haven't actually started the above book yet, but I have it here beside me because it's the book I was going to take outside.