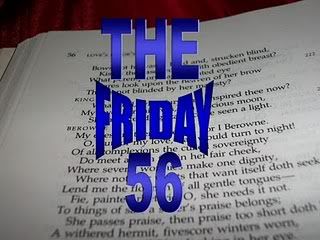 Rules:
* Grab the book nearest you. Right now.
* Turn to page 56.
* Find the fifth sentence.
* Post that sentence (plus one or two others if you like) along with these instructions on your blog or (if you do not have your own blog) in the comments section of this blog.
*Post a link along with your post back to this blog.
* Don't dig for your favorite book, the coolest, the most intellectual. Use the CLOSEST.
I found this via
Shiloh Walker's blog
. She found it at
The Bookaholic Zone
, who found it at
Storytime With Tonya & Friends
, which - as far as I can tell - seems to be the originator.
Today's selection comes from
Blue Diablo
by Ann Aguirre, which I was lucky enough to win - just last week - as part of a contest among the author's followers on Twitter. It arrived this past Monday. Thanks again, Miss Ann!
"He'd never gotten there with me, and I'd figured it was somehow my fault."
Interesting... Especially following the first four sentences on that page. Now I'm looking even more forward to reading this. Good thing I'm planning on starting it as soon as I finish Libba Bray's
Going Bovine
. ^_^